Make Your Home Healthier &
 Energy Efficient
Welcome Chicago & Indiana Homeowners
Although we work in Indiana, Michigan and Wisconsin, Chicagoland is the original location for crawlspaces.com. We pride ourselves on being locally owned and operated.
Take a look at some of our before and after pictures. The before pictures might seem all too familiar. The after pictures show what we can offer you: clean, dry and secure storage space. You will also experience warmer floors and no more musty odors. All of this is covered by our lifetime warranty which included with every job. Our guarantee is not a sales gimmick, it is an honest promise.
SmartSeal Encapsulation
Crawlspaces.com was founded in 1998 and has become a fixture in the Chicago home improvement market. Although many have attempted to duplicate our SMARTSEAL ENCAPSULATION PROCESS , none have been able to duplicate our customer service and quality of workmanship.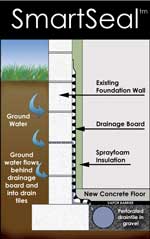 SMARTSEAL ENCAPSULATION PROCESS (as illustrated) represents the most hygienic, cost effective, energy efficient and visually dramatic improvement that a homeowner with a crawlspace can invest in.
ONE STEP FURTHER
Sometimes, a crawlspace is just not enough. In response to increased customer demand over the years, the crawlspace "dig out" has become a common request among homeowners with a crawlspace.
Not too long ago, increased basement space seemed impossible or cost prohibitive. Thanks to the services we offer at crawlspaces.com, those days are in the past! Just ask our many customers who have chosen this budget friendly method of increasing living space. Here are some crawlspace transformation pictures. Pictures not enough? You can see it in person. Contact our office and we will arrange a viewing in your area. Our past customers are so satisfied, they are willing to let you see our work for yourself!
OTHER SERVICES AND LOCATIONS
Other award winning services include
Basement Waterproofing Solution
Mold Remediation/Reconstruction
Call 630-360-2206 for information on any of the services listed. We can answer your questions over the phone or set up your appointment for a FREE estimate!

This review is long overdue. After looking at other companies, Nu-Crawl was who we chose. If you do your research, you'll understand why. What was once a disaster of a place is now somewhere you don't mind going into to for extra storage. What I find unbelievable is with the recent negative 24 degrees we experienced in the Chicago area, the crawlspace feels warmer than the 69 degrees I have my furnace thermostat set at. Sooooo glad we went with Greg and his crew and product.
- Karen Munthe

Great company, Great system, Great people. If you want the best these guys are it. Do some homework and you'll see. Thanks for great job on the crawl space.
- Kevin Wilson
A Better Crawlspace Starts At Crawlspaces.com
Providing the most up to date information about crawlspaces globally, from simple solutions to waterproofing, concrete encapsulation, structural repair, rat proofing and spray foam insulation for basements and crawlspaces. Our Crawlspace information portal has you covered!